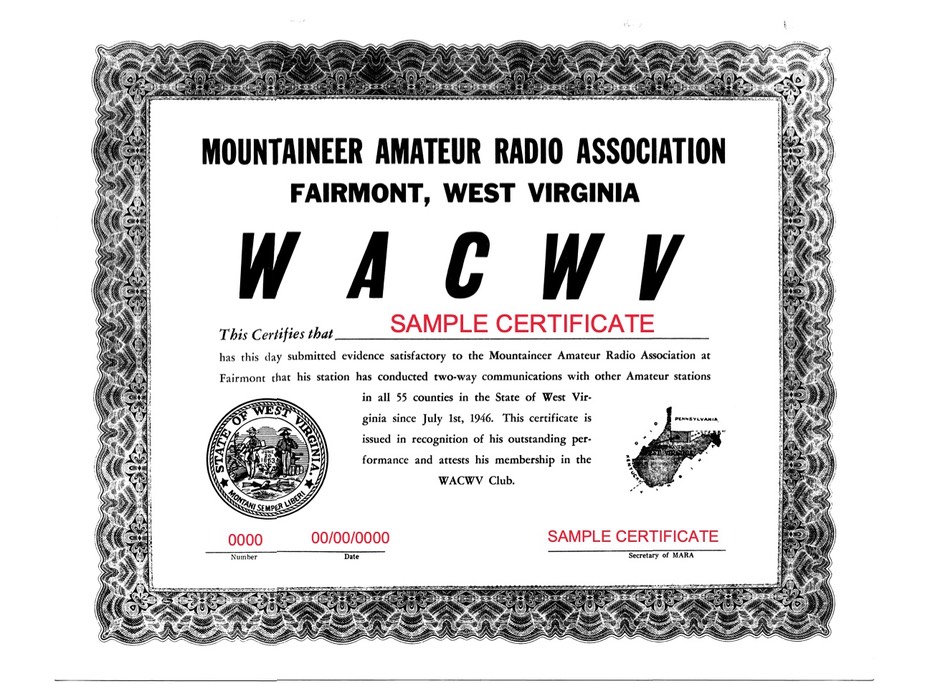 The Mountaineer Amateur Radio Association (MARA) of Fairmont, WV has sponsored the W.A.C.W.V. since July 1, 1946.  Any licensed amateur radio operator is eligible to participate.  Only contacts made after July 1, 1946 will count toward this award.
An attractive 14" x 17" certificate will be issued to each amateur who works all 55 West Virginia counties.  Contacts may be made on any amateur bands and in any modes.
Stations working the West Virginia counties may be portable or mobile.  All contacts do not have to be made from one fixed location.
All applicants for this award will be made by submitting the following information:
West Virginia county name

date

time (in UTC)

call sign of station worked

band

mode
The award committee shall consist of three members of the MARA appointed by the
President.  ALL DECISIONS OF THE COMMITTEE ARE FINAL !
Application forms are available for downloading (below) or by sending an SASE to the address below.  Excel forms are also available for downloading.
Submit the completed application & check/money order for $8.00 US (made out to MARA) to:
          Mountaineer Amateur Radio Association
          c/o Chuck Mc Clain, K8UQY
          5679 Beverly Pike
          Grafton, WV 26354-8343
Application Forms: